ORNAMENTAL PINES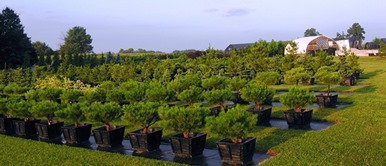 Other stand-out options at the Hanselman Landscape nursery are the many ornamental Pine varieties we have grow and develop for their enduring, all-season beauty. We have chosen to cultivate these garden art pieces for several reasons:
Memories–Anyone who explored beneath a Pine as a child is transported back to a time of wonder when breathing their aromatic fragrance. Winds whisper unique tones through Pine needles.
Enduring color and strength–Because they are evergreen, Pines add loveliness to a garden throughout months when neighboring trees have lost their leaves. Pines also provide a dense green background against which the flowering hues of spring and the spectacular colors of autumn glow. Pines offer beauty in all seasons and weather, they thrive in Pennsylvania and beyond even under tough conditions.
Variety of texture–From soft to rugged, ornamental Pine needles appear in many diverse textures. Their bark also comes in a variety of textures and appearances, from flaky red to deeply fissured dark gray. These variations make ornamental Pines interesting additions to any garden, no matter which cultivar you select.
Well-suited for sculpting–In our nursery, we prune our ornamental Pines to reflect some memory of where they grow in nature. For example, many of the Pines we have developed appear as though they have been transplanted from the windswept side of a cliff. In highly visible areas in a garden, these beautiful sculptures become the show pieces we envisioned when we began pruning them as seedlings.
Multiplicity of choices– Pines can be used in windbreaks or to create privacy. But, they can also be used as ornamental sculptures in your lawn or garden. Our nursery has a wide variety of ornamental pines. We have gathered our favorite cultivars, which include Japanese Red Pines (Tagyosho and Occulus draconis varieties), Japanese White Pines, and Japanese Black Pines (Thunderhead and Banshoho varieties). We offer fully developed specimens of all of these varieties, and seedlings of Japanese Red and Black Pines. We will help you make the perfect selection for your needs.
If you would like to add an ornamental Pine sculpture to your garden, please Contact Us. We would love to help you select one of our favorites!
Larger specimens available–Pines have been cultivated for years in Japan as elegant garden plants. Our staff develop and prune several varieties of Pines using traditional Japanese practices. As this process takes years, we're pleased to finally have a number of substantial specimens available for installation in gardens or for sale. Please contact us to tour the nursery and select the right one for your site. Here are a few examples of what we have to offer.