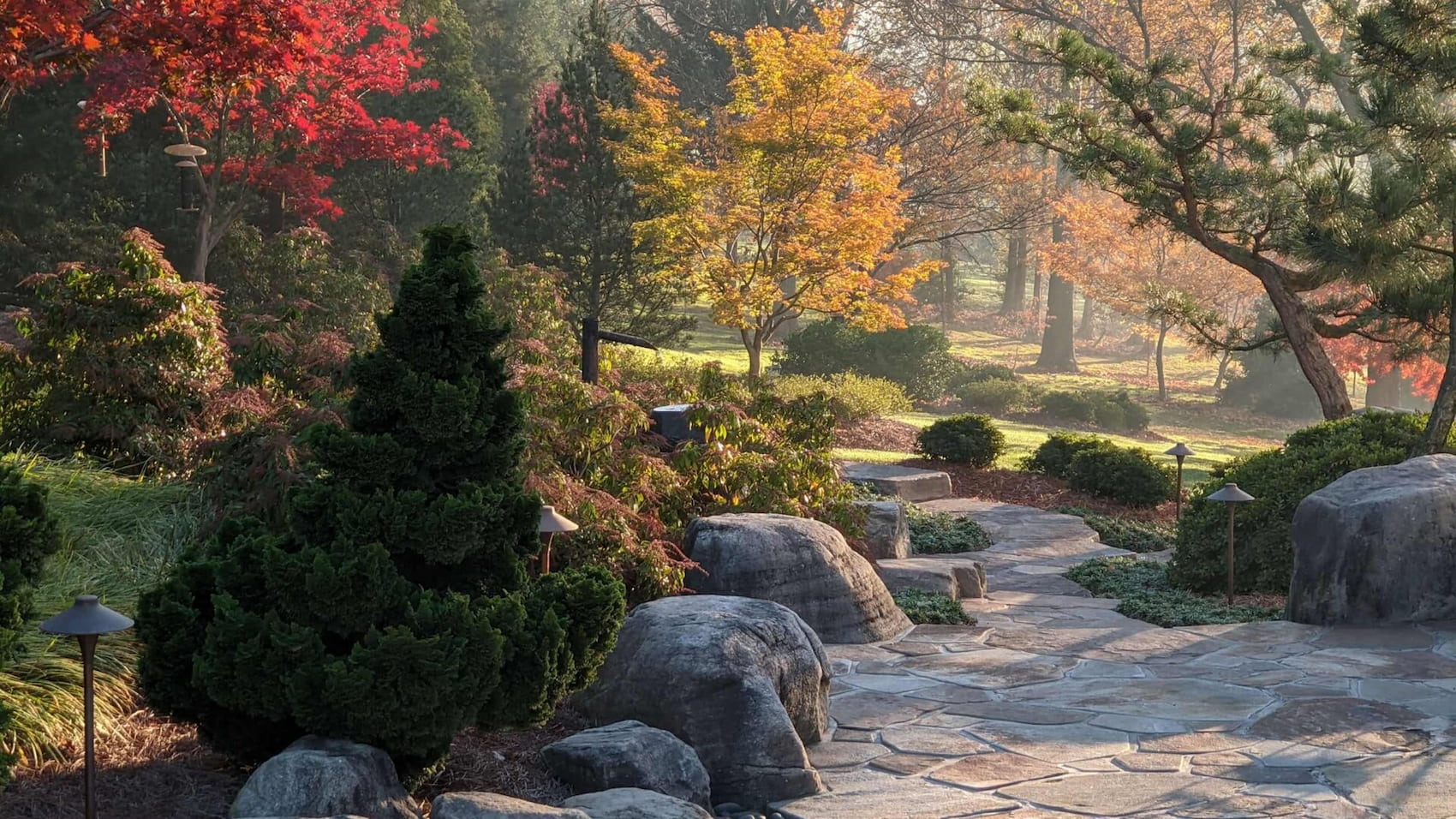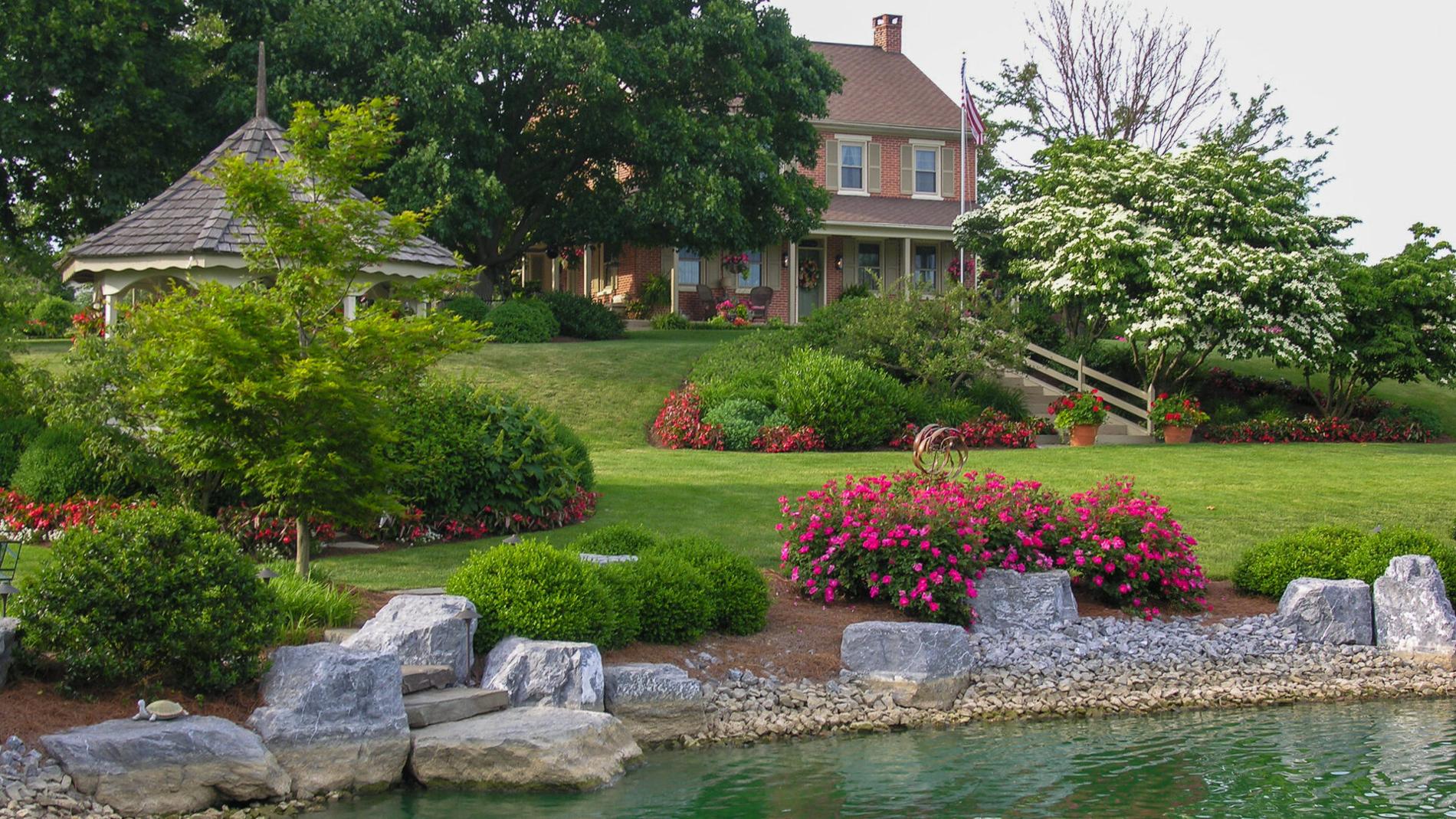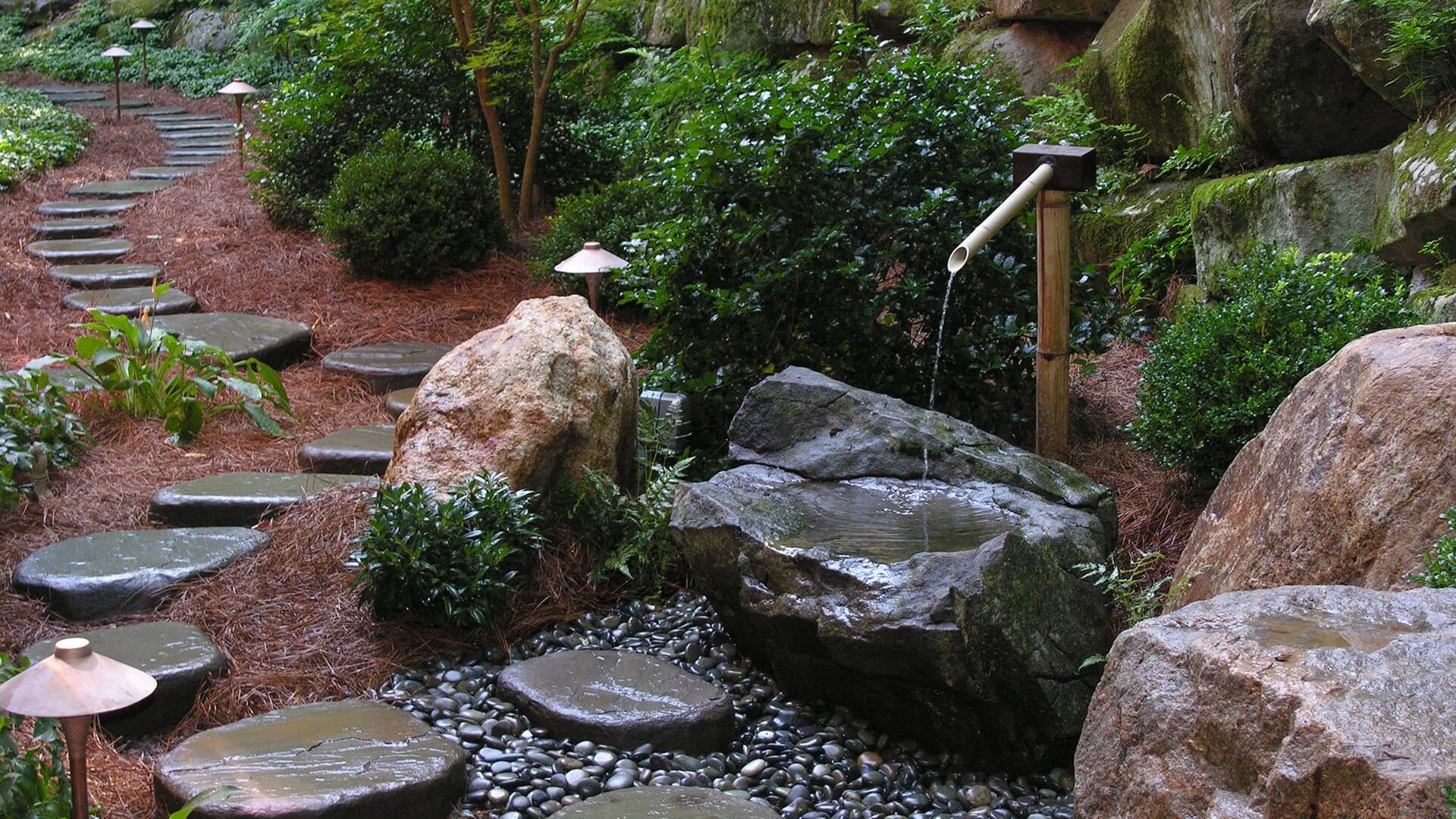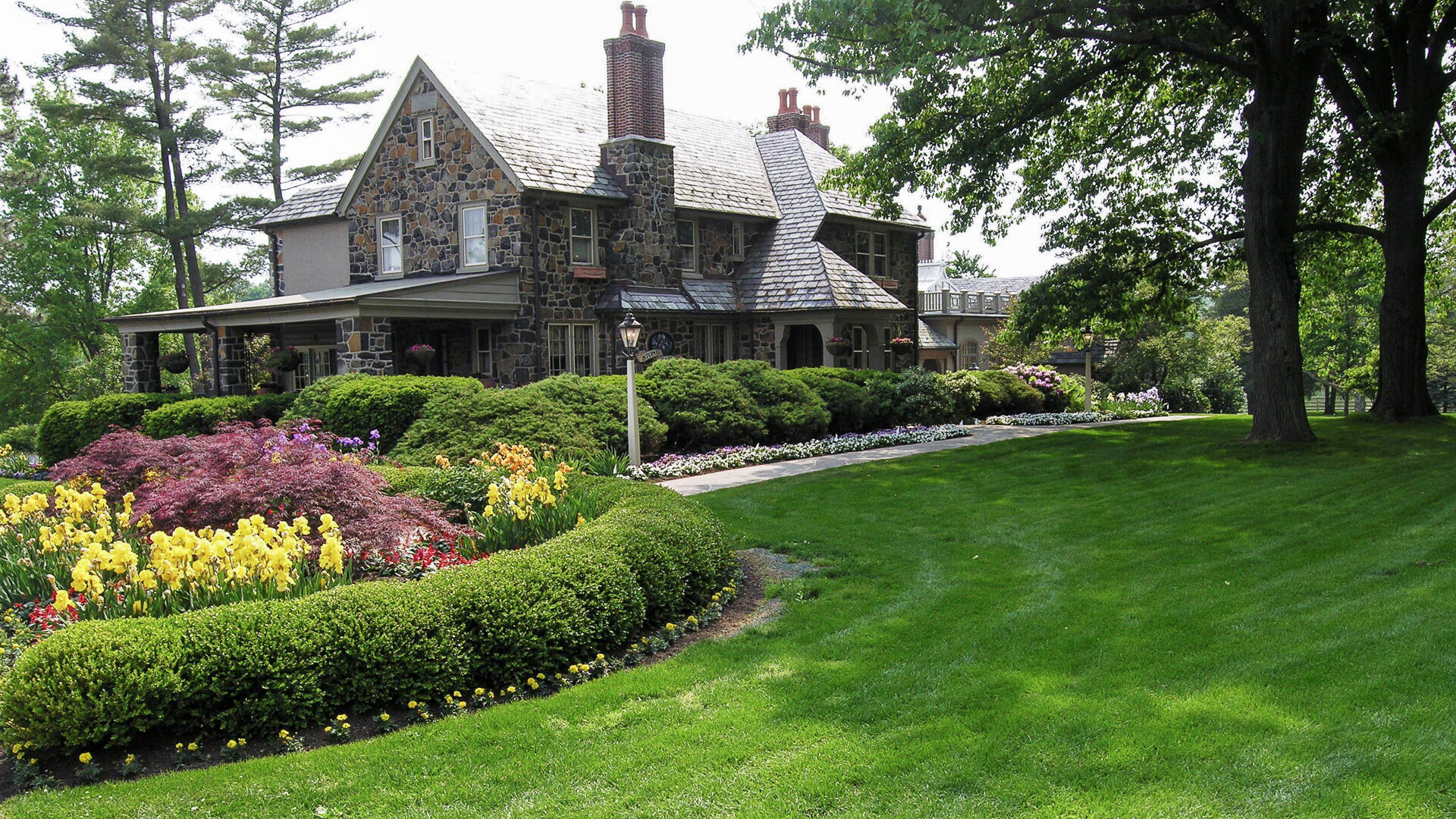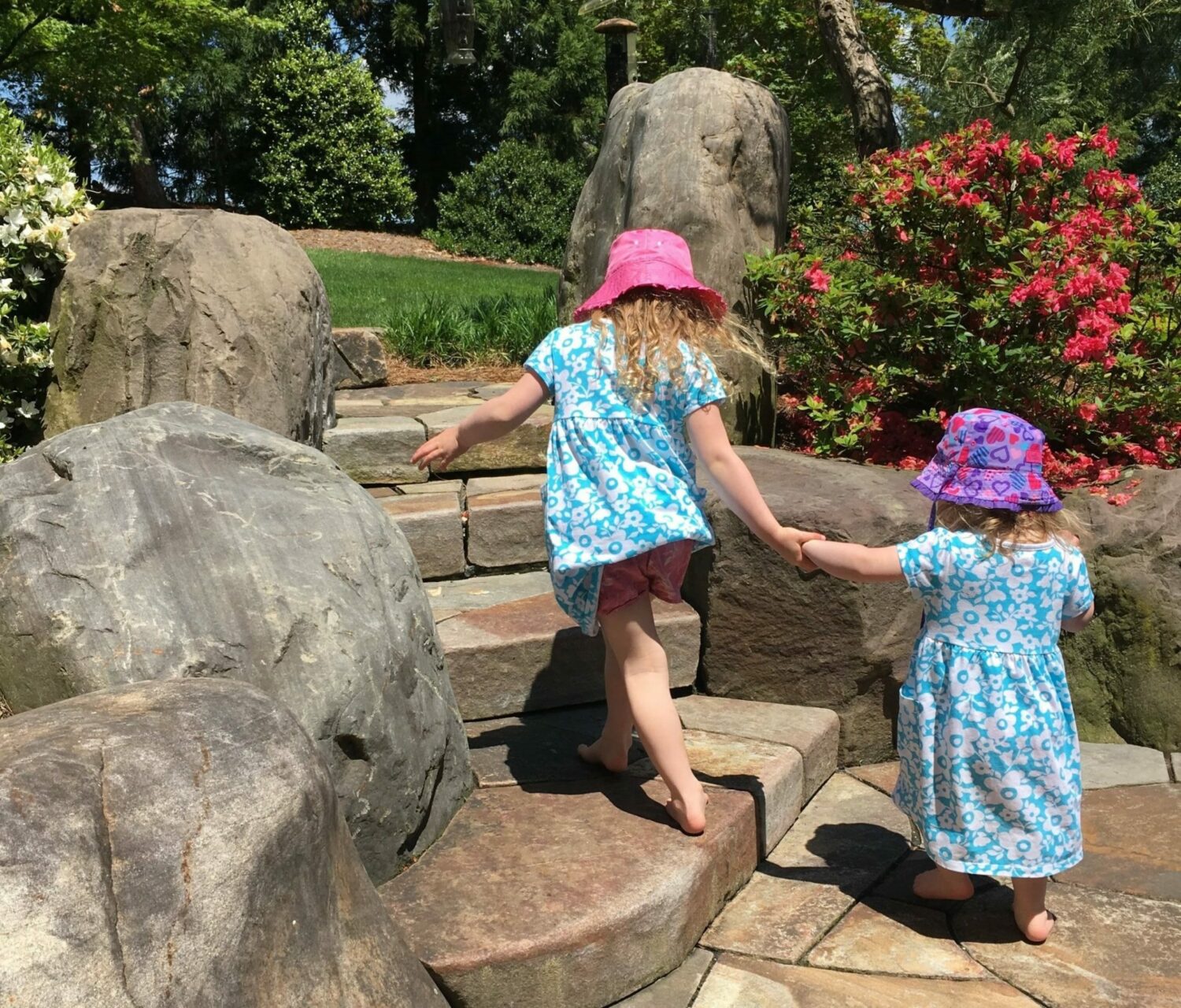 Children enjoy the texture of natural stone under bare feet, Manheim, PA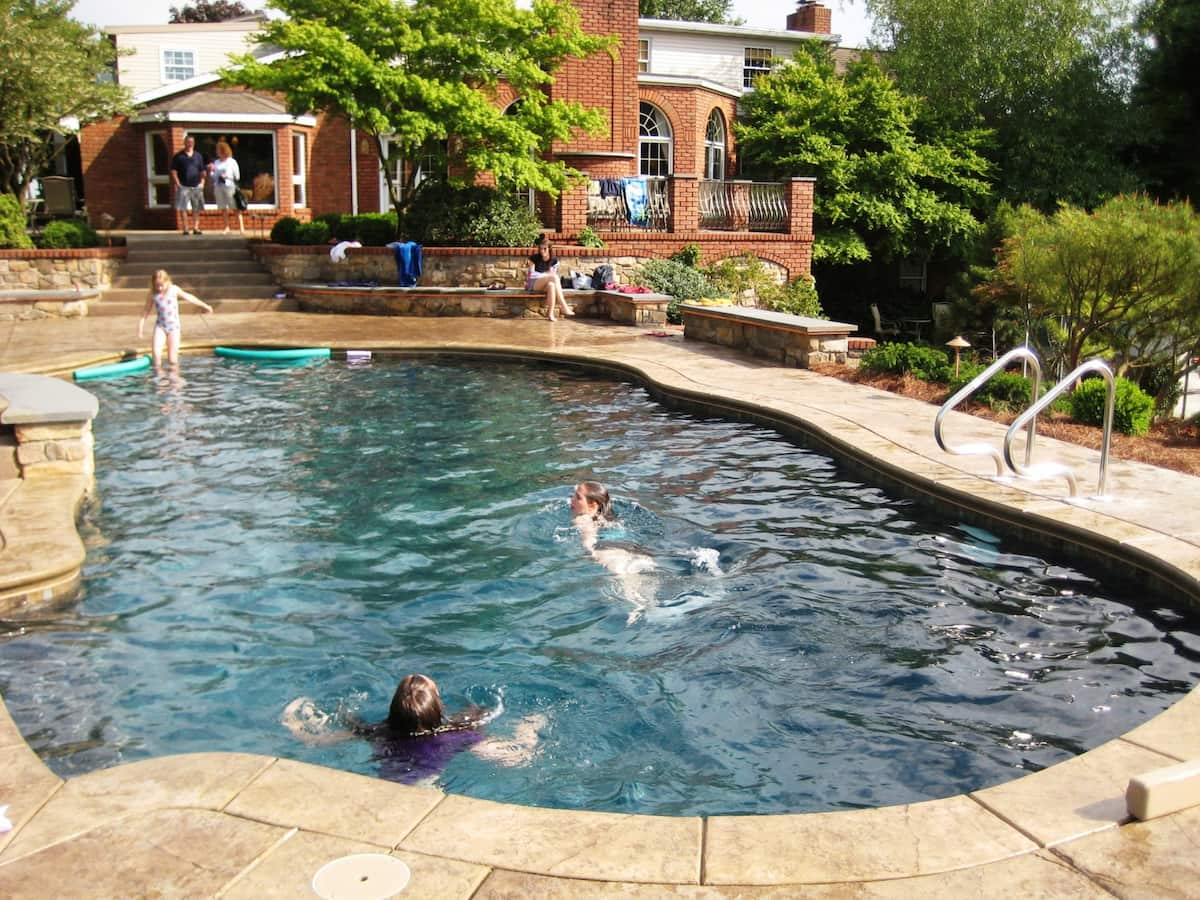 Custom pool-side terraces add seating (without clutter) for gatherings around pool with built-in swim jets, Lancaster, PA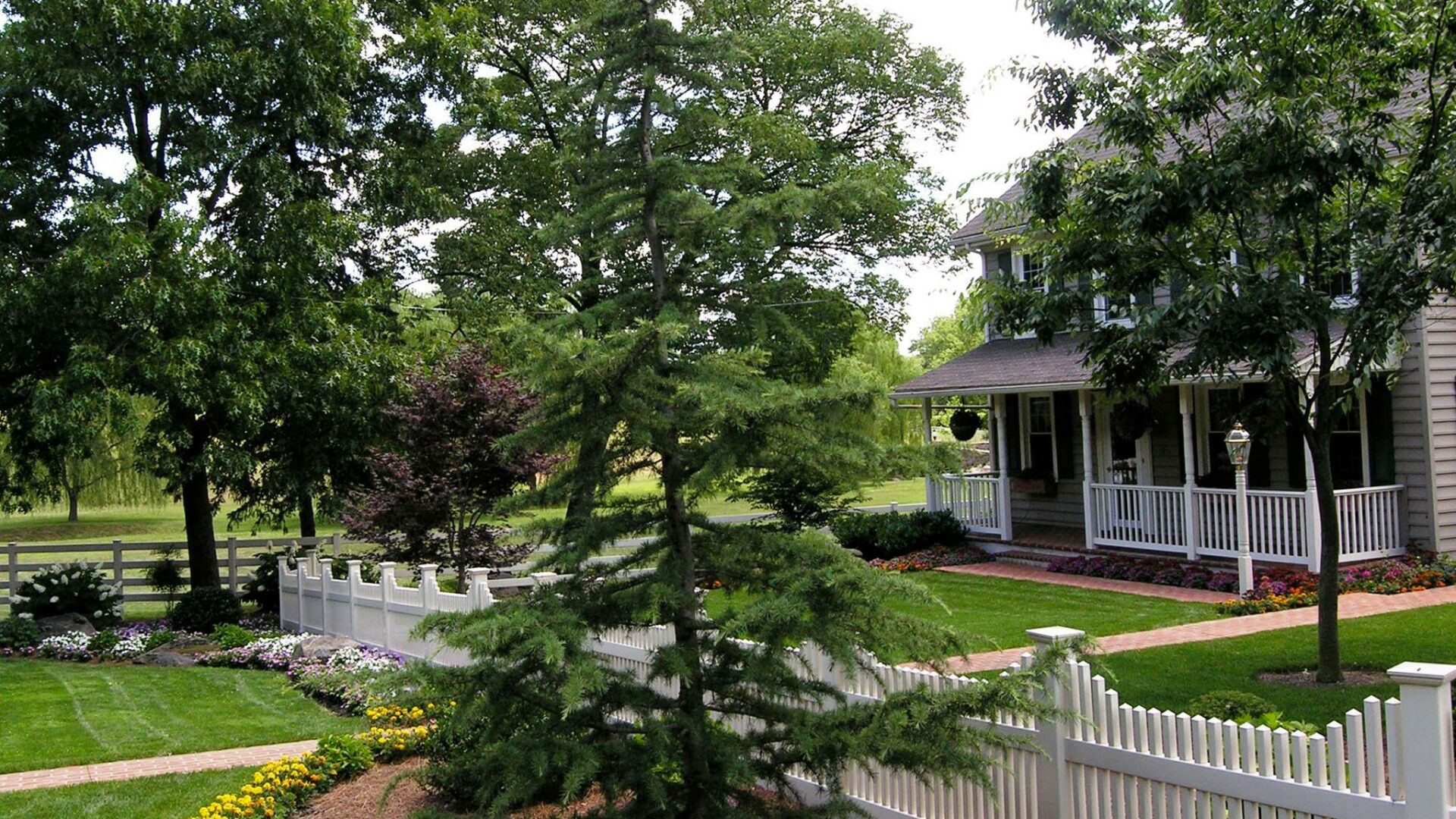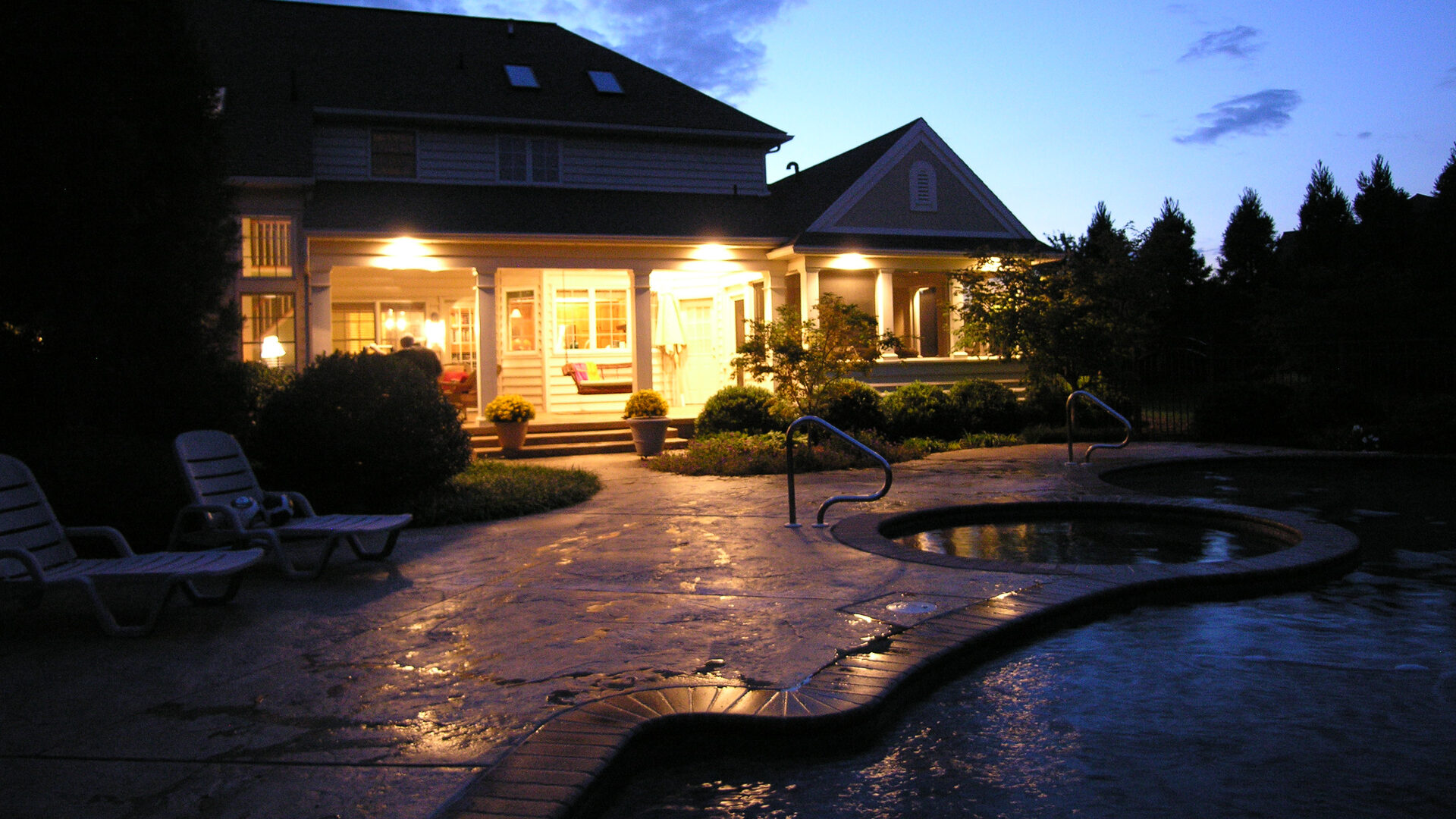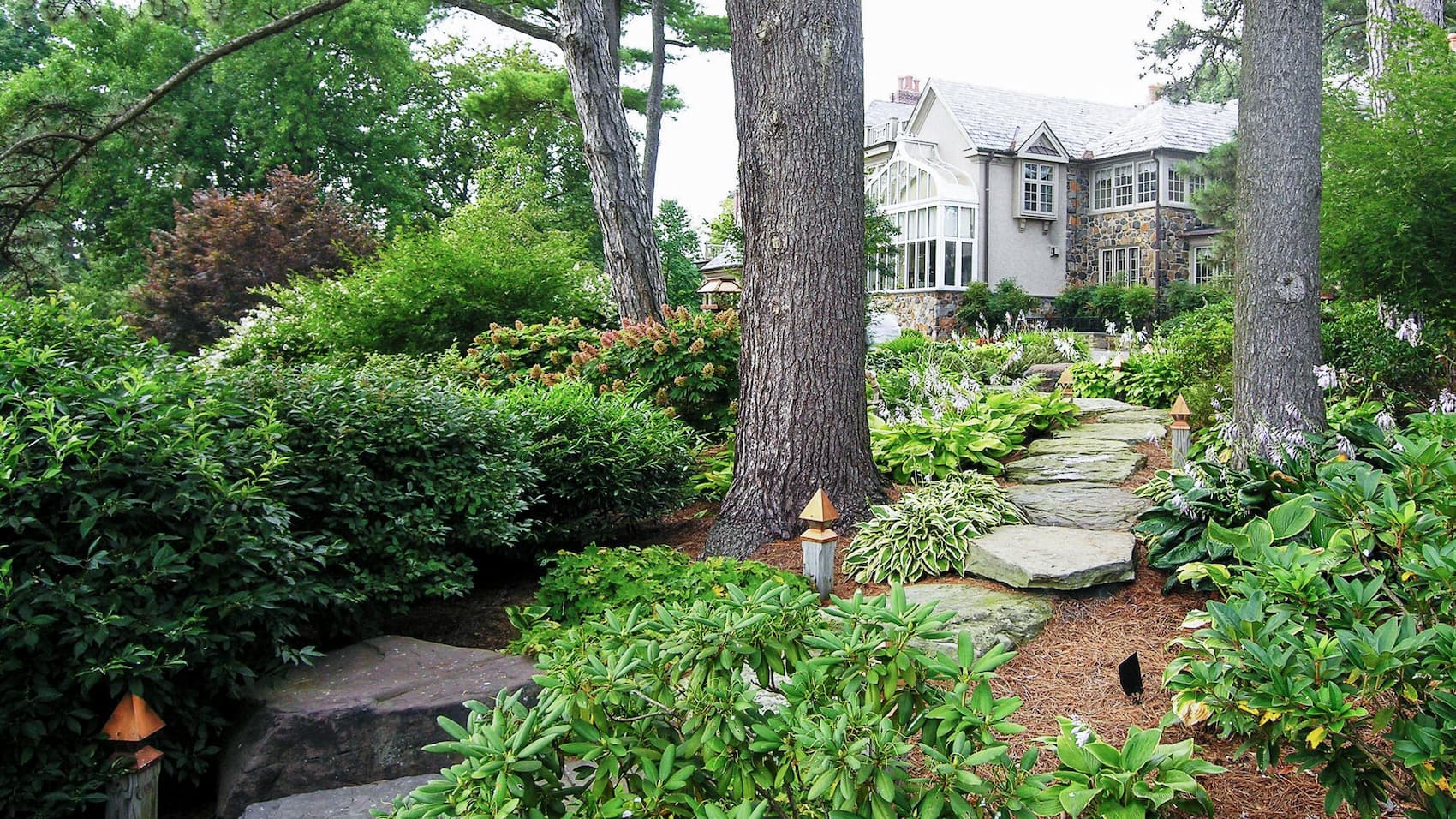 Bringing you joy through your garden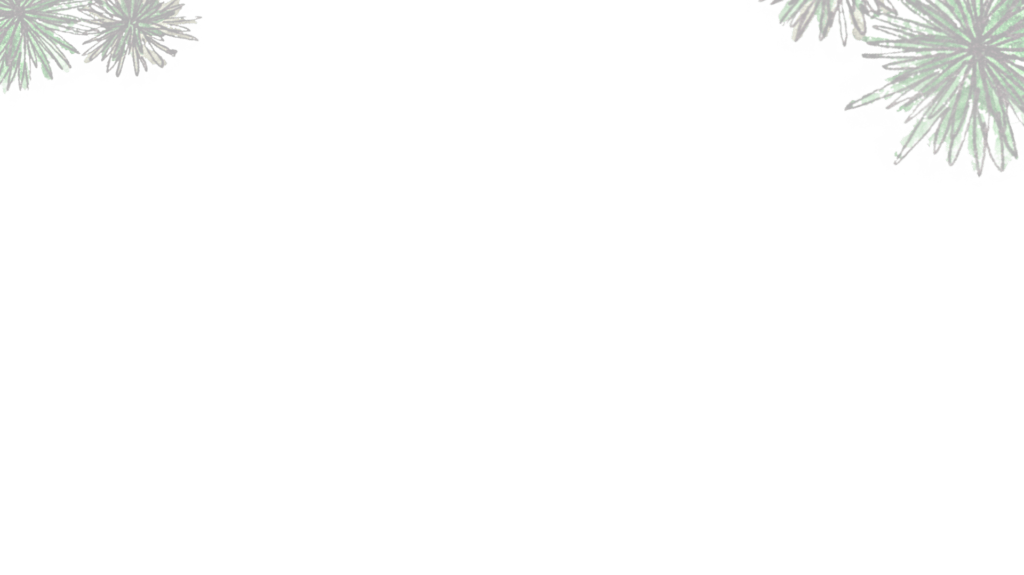 A delightful Experience
Enjoy a thoughtfully designed garden that will enhance your life. We draw inspiration from gardens around the world to surround your home with interest and delight.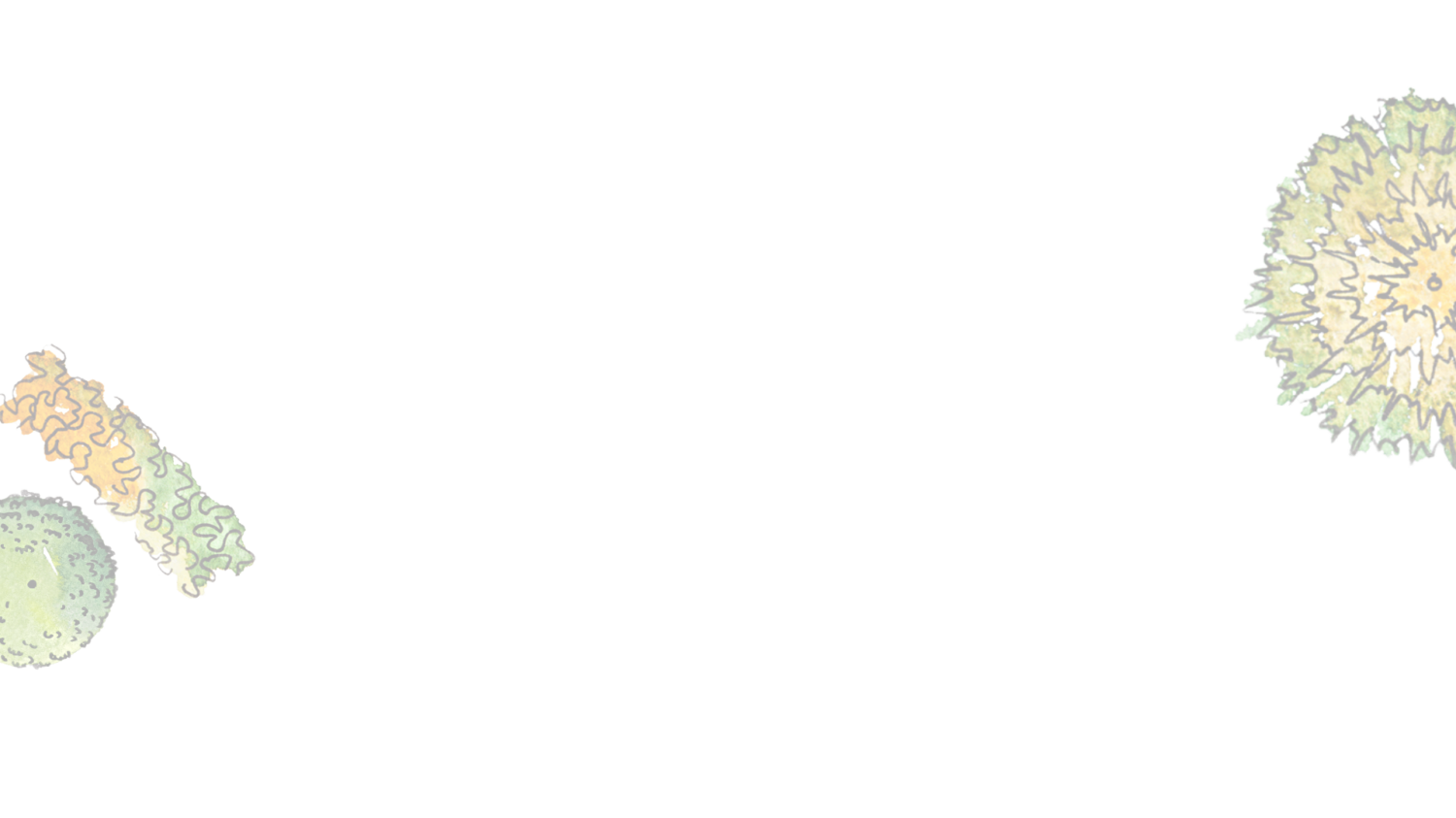 Experience Brings Perspective
For more than 30 years we honed our craft and developed a unique approach to garden design. Over that time, we have developed a process through which we explore your dreams and goals, design from many perspectives, and build through a team of skilled craftsmen that will enhance your property.
Our Garden Design Process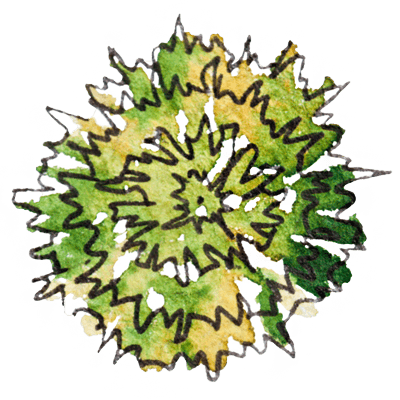 Explore
Share your goals, ideas, and project budget and we will begin to survey and plan your garden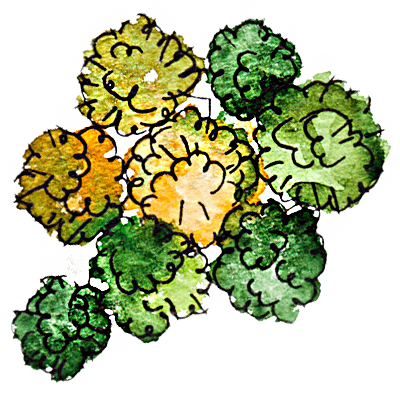 Design
We will consider all your primary view perspectives, both inside and out as we design your garden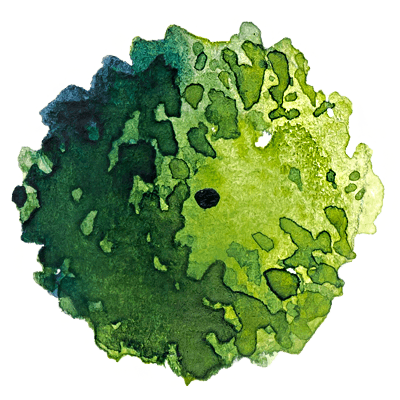 Build
Your garden dream will begin to take shape at the hands of our highly skilled craftsmen and landscapers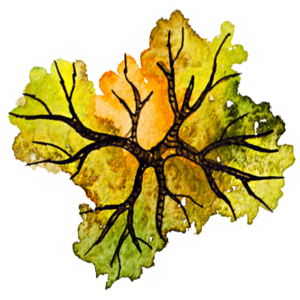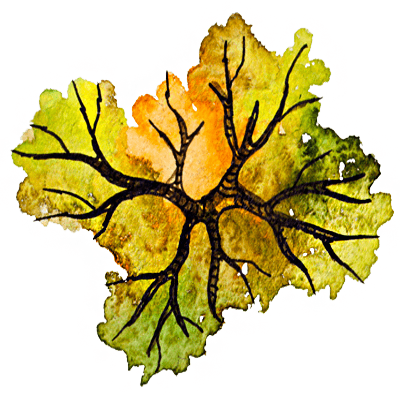 Enjoy
Every project ends with the reward of experiencing the joyful stewardship of your little piece of creation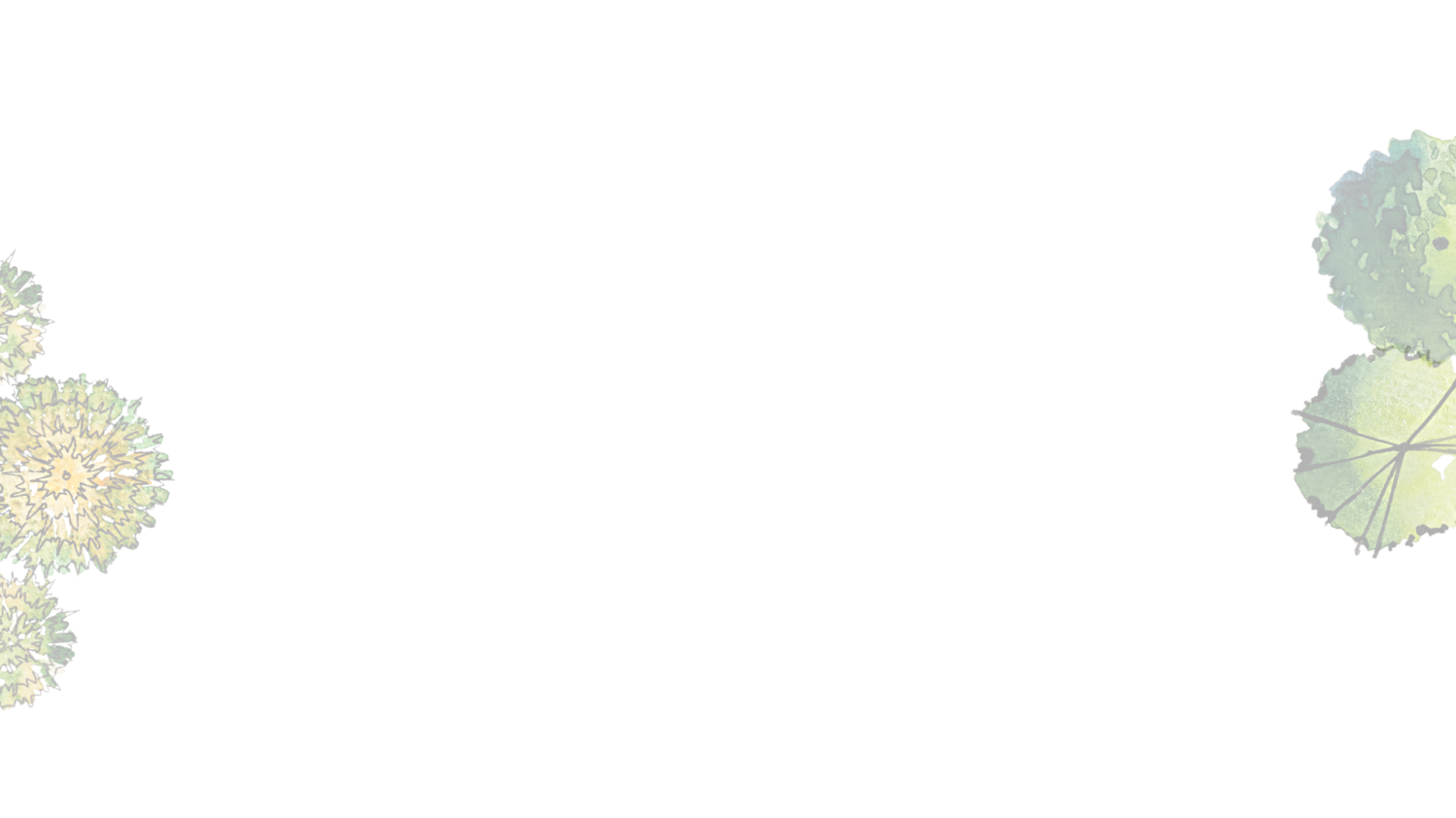 Testimonials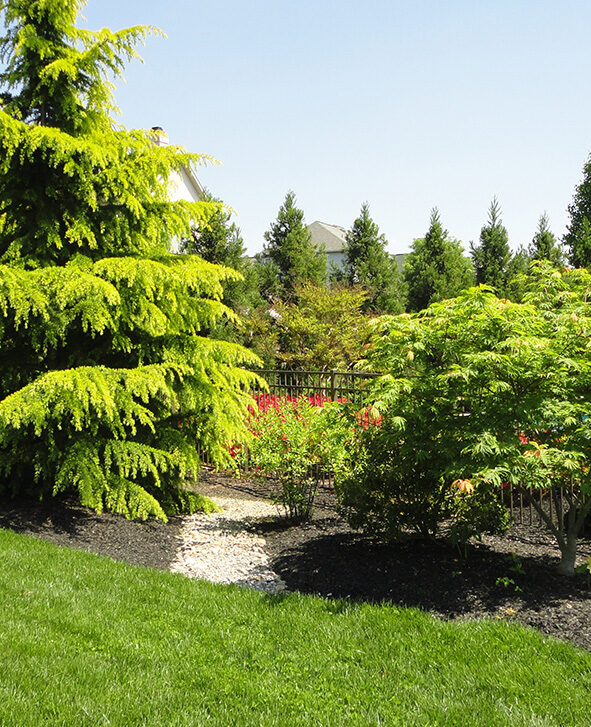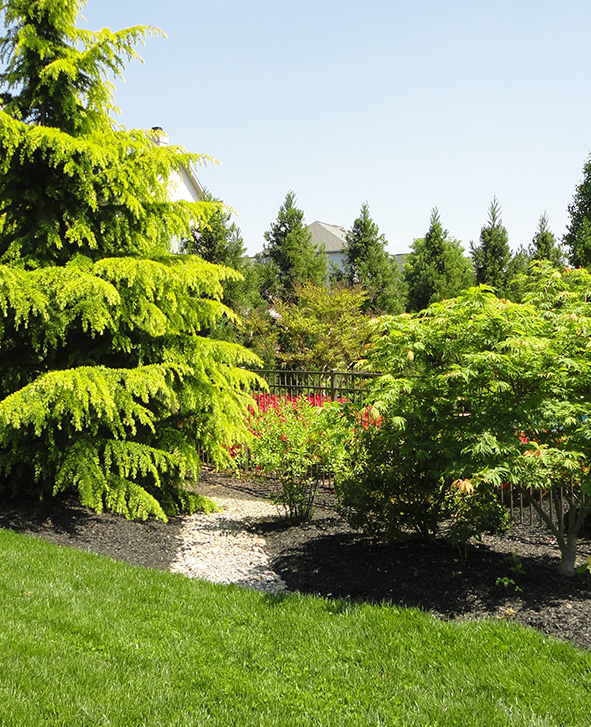 What surprised us most was how much more we love our home since Hanselman Landscape began working here! The porch, patio, pool and garden together create a refreshing new feeling in what used to be a boring, flat backyard. In addition to the beautiful new backyard oasis they created, they are here regularly to care for our plants, turning existing shrubs that we thought were worthless into beautiful, valuable specimens.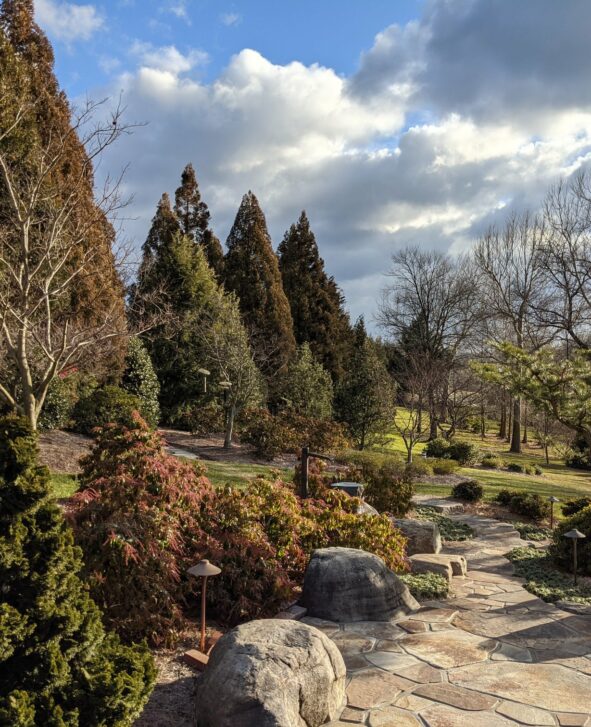 Our needs were to have as much privacy as possible from neighboring homes. The landscape, because of the size of the trees, does that now. Everything was done to perfection. This was the first time in a while (even with building a new home) that we gave the job to someone and never, ever had to go over again and again what was to be done. It was a real pleasure to have your services.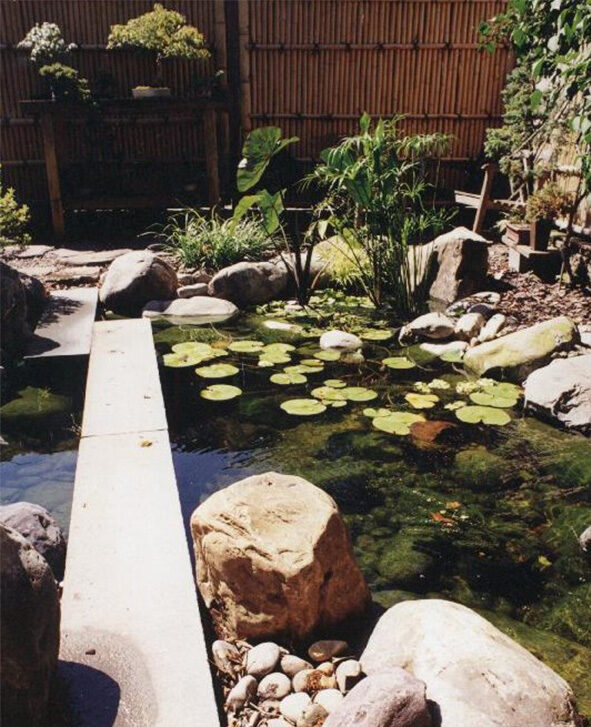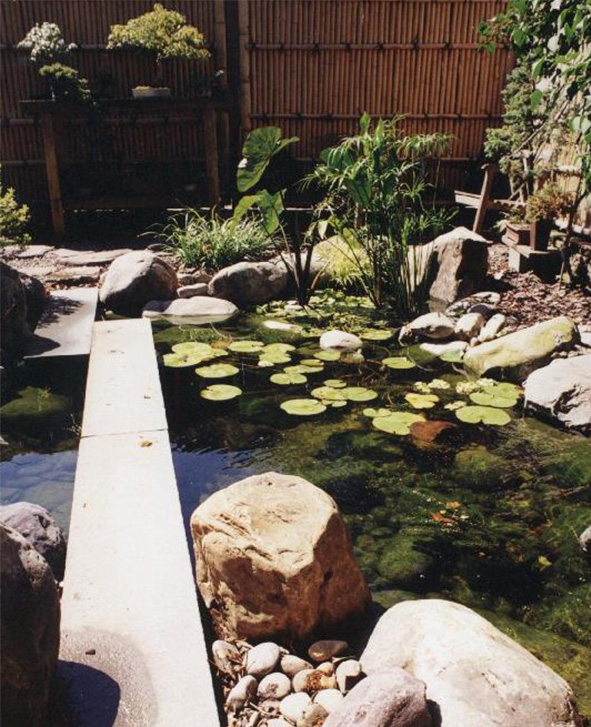 Words do not serve well to express the sense of serenity and pleasure which your fine work evokes. On returning home from my difficult duties this week, this special place which you have created for us provided a welcome respite. I would liken the feeling to that of walking alone through a great museum.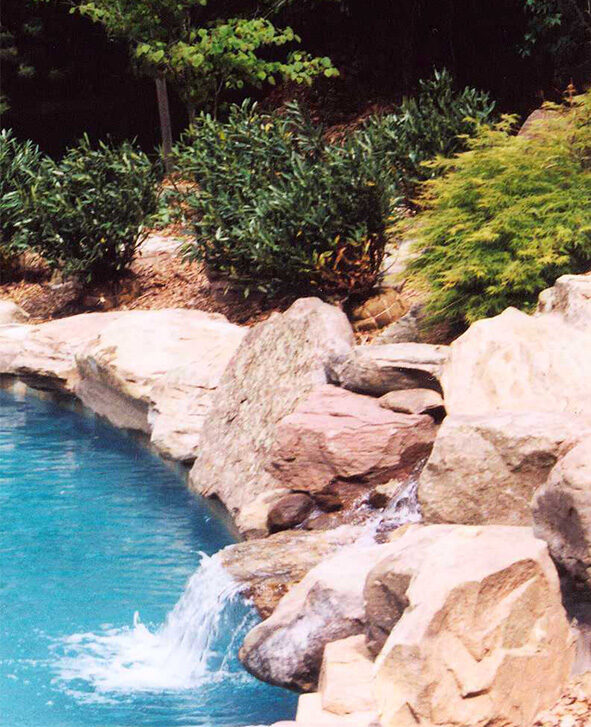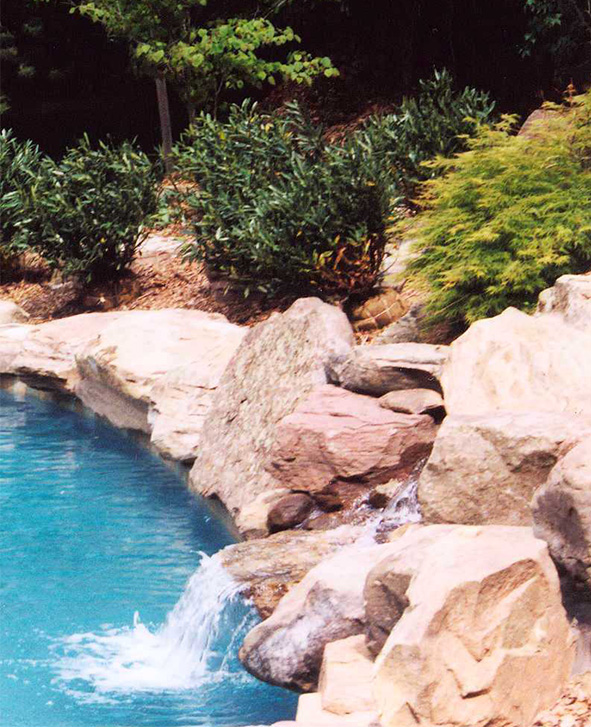 I can't even put into words how much I love my new yard. Hanselman Landscape did an outstanding job–changing an ugly piece of land into a serene and beautiful garden. Everything is just perfect. I most enjoy the woodland theme and the variety of textures and colors in the new plants. The workmanship of Hanselman Landscape's employees is of the highest quality, and the customer service is courteous and professional.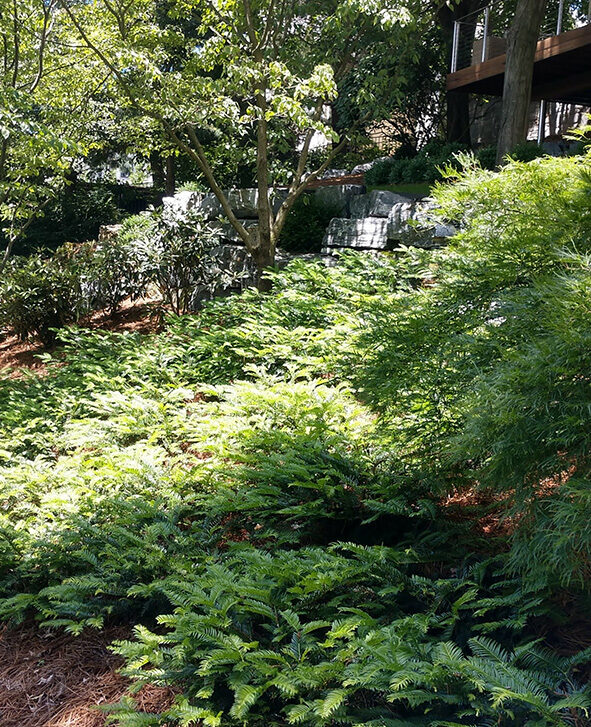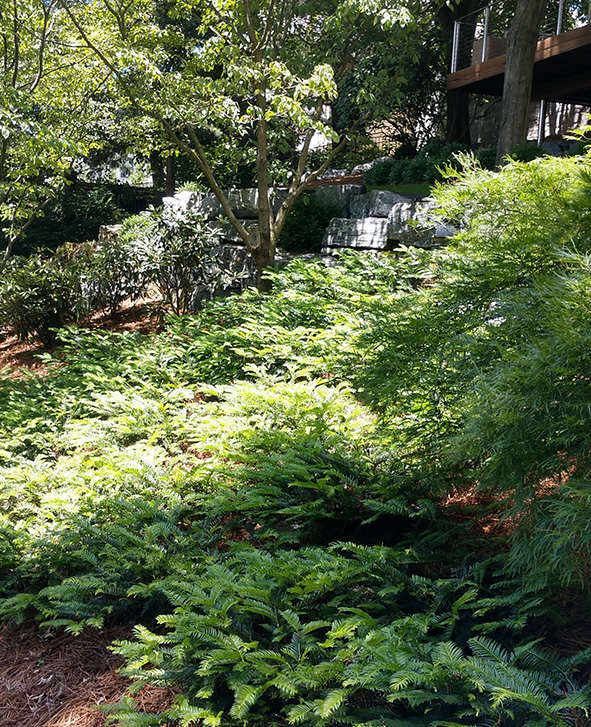 Hanselman Landscape has helped us re-landscape our property over the past 3 years. James has a way of guiding you through your own garden, taking in the vantage points, and uncovering your vision (even though you didn't know you had one)!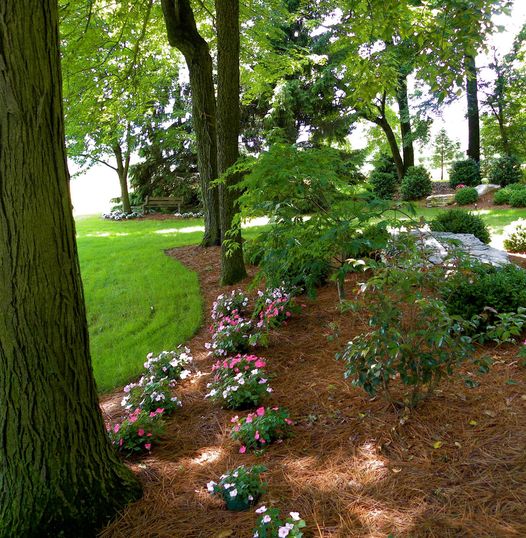 We liked the way James (Hanselman) explained and introduced the suggested plantings, actually showing us leaf samples. We needed and appreciated his guidance on how we can nurture and maintain the plants in the future. Thanks for adding to our enjoyment of our home with your creative landscaping. We are definitely pleased to have had your expertise.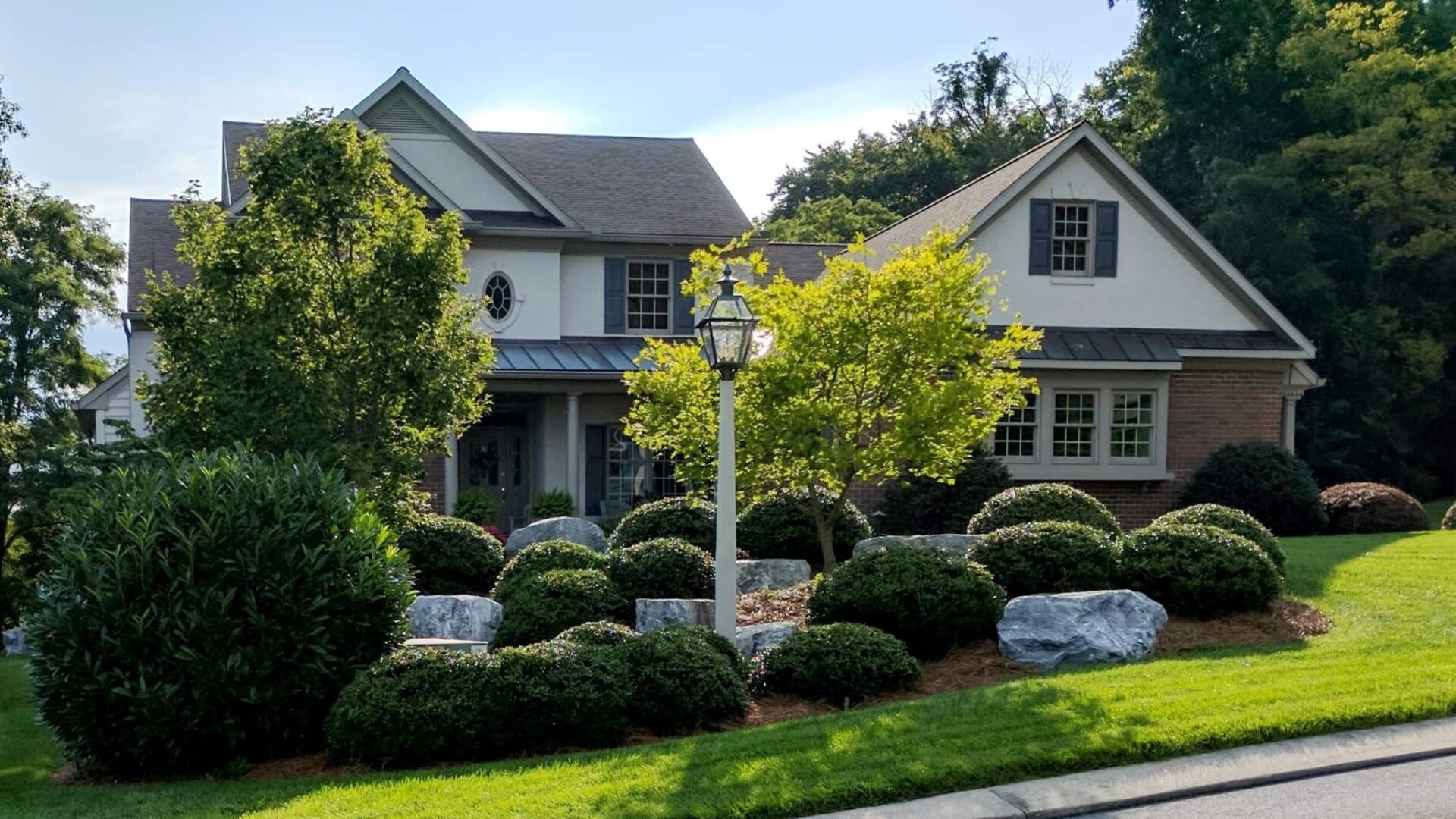 Evergreen shrubs that keep light from reaching the ground are some of the best components of a successful low-maintenance garden, even if overall neatness is preferred, Columbia, PA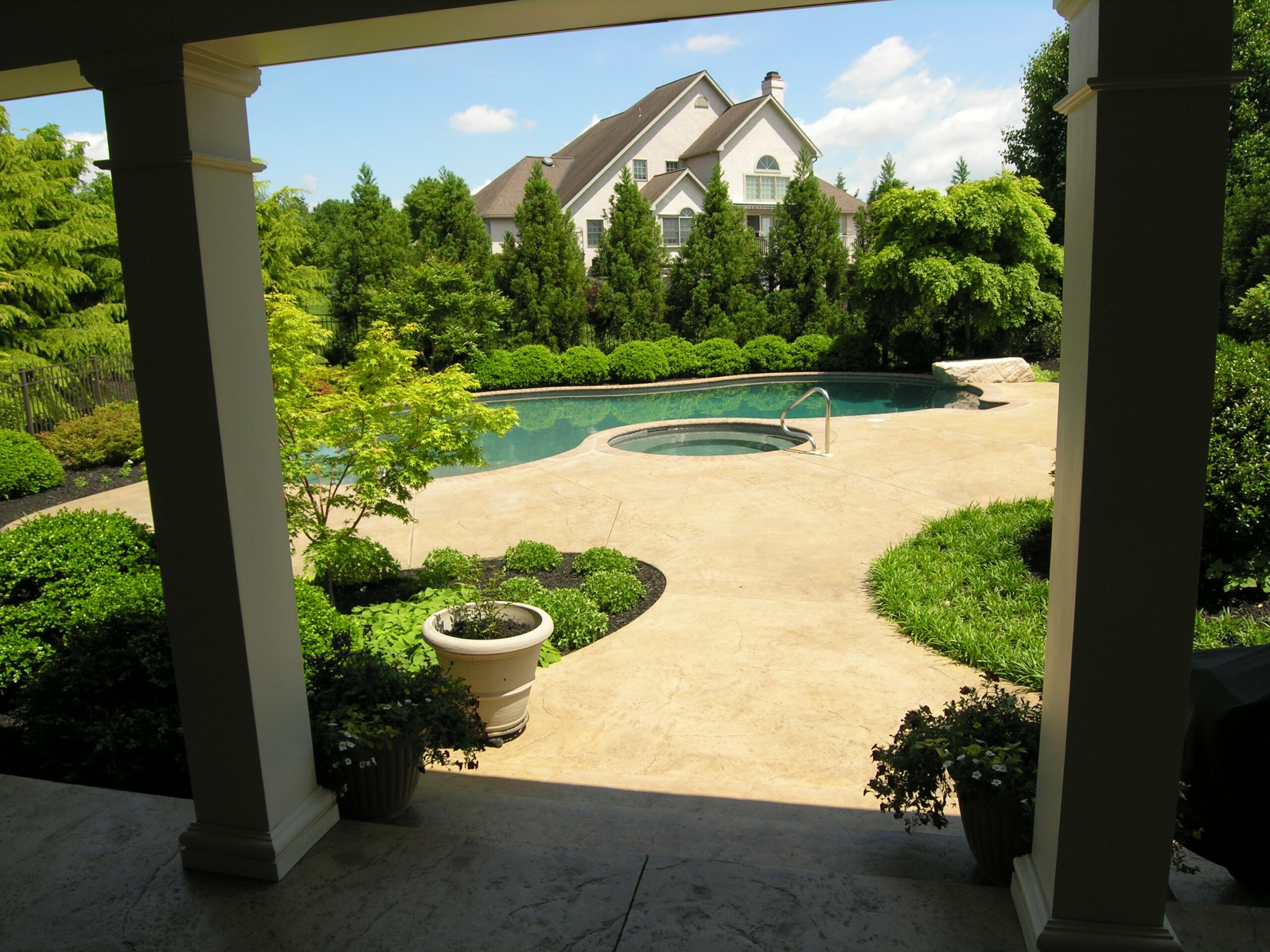 Deep porch frames view of private swimming pool oasis, Lancaster, PA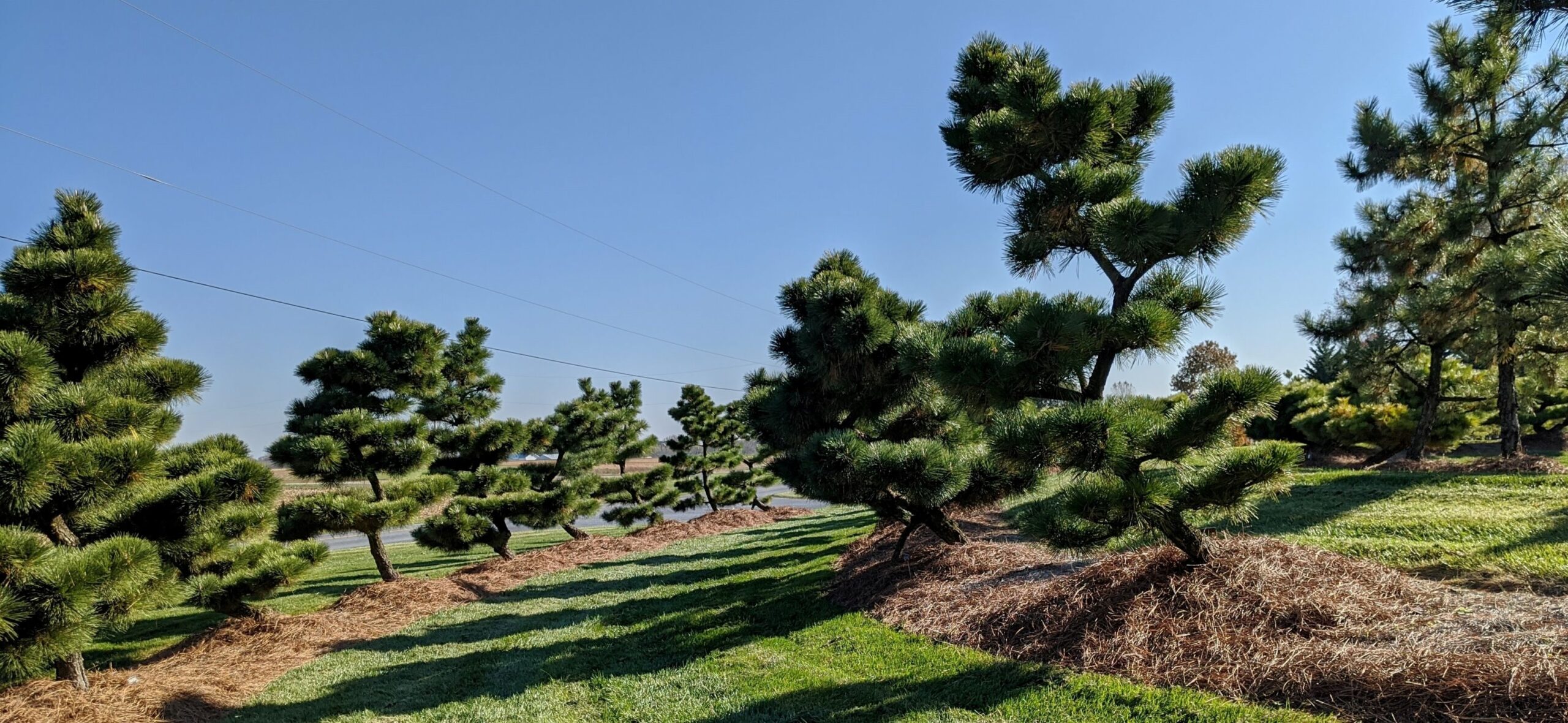 Pinus thunbergii 'Thunderhead', 'Banshoho' and 'Fuji' Japanese Black Pine, Manheim, PA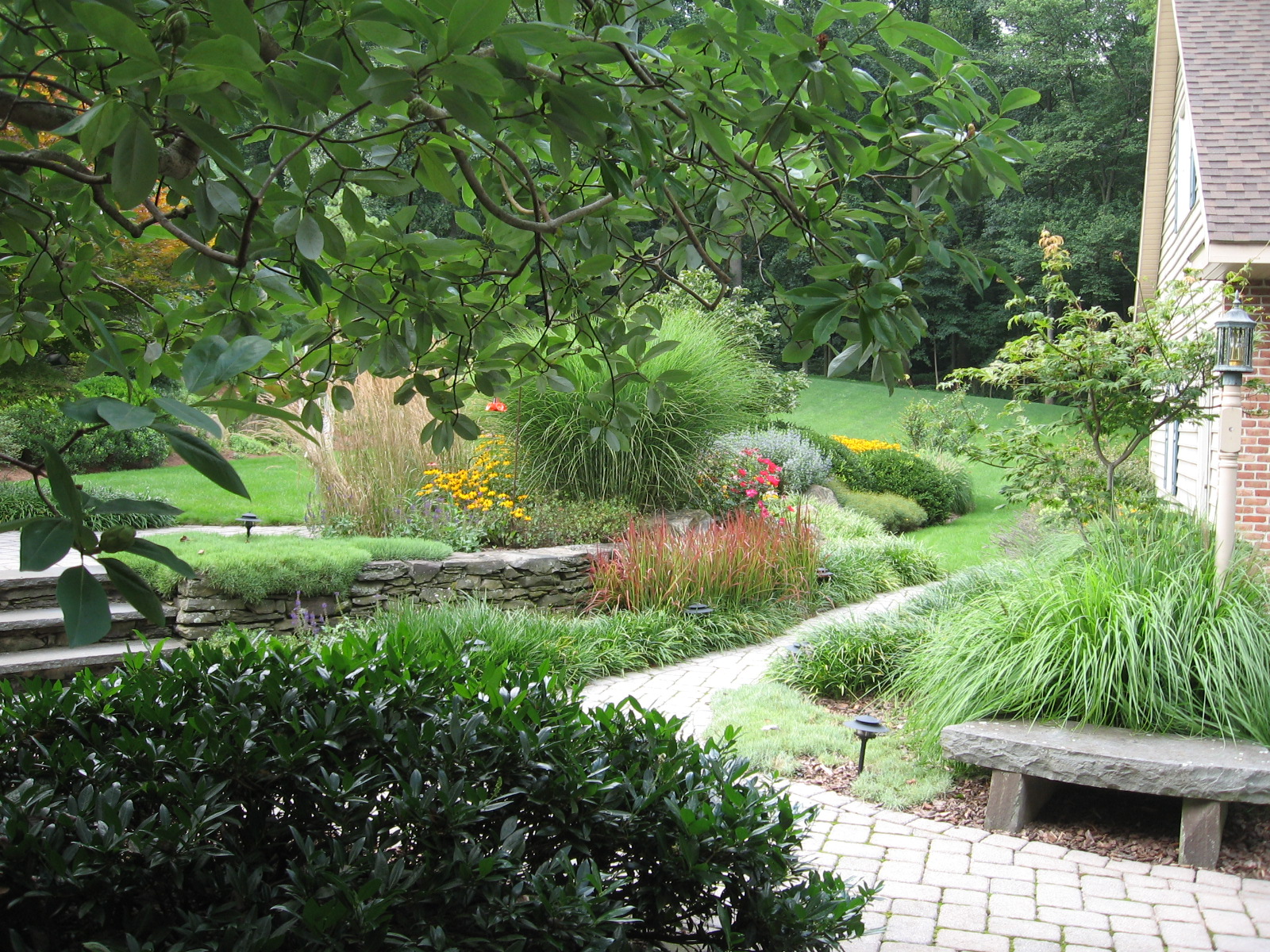 A natural feel to these garden terrace plantings, Morgantown, PA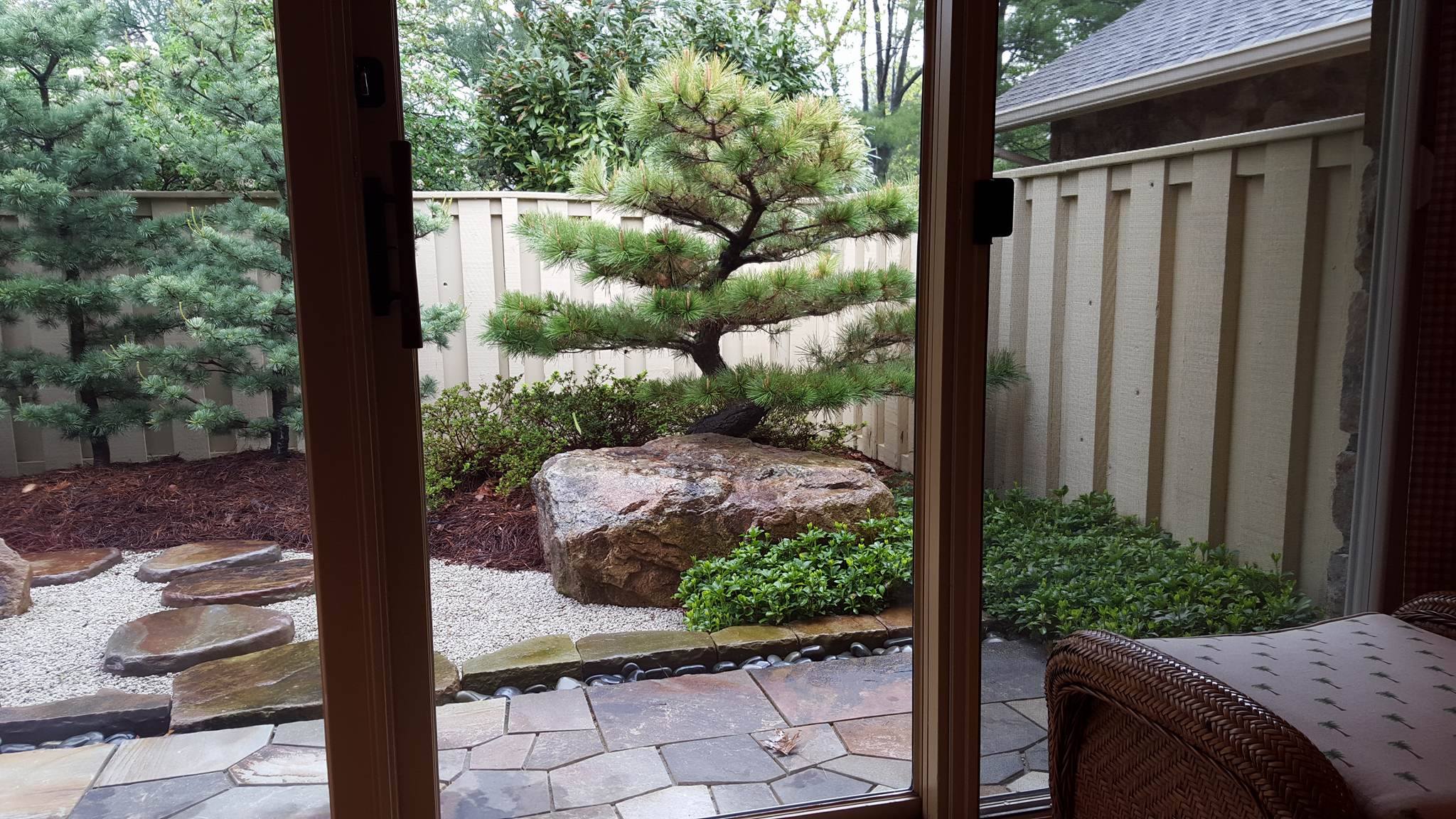 Pull back the curtains to bring a garden into your favorite room, Bryn Mawr, PA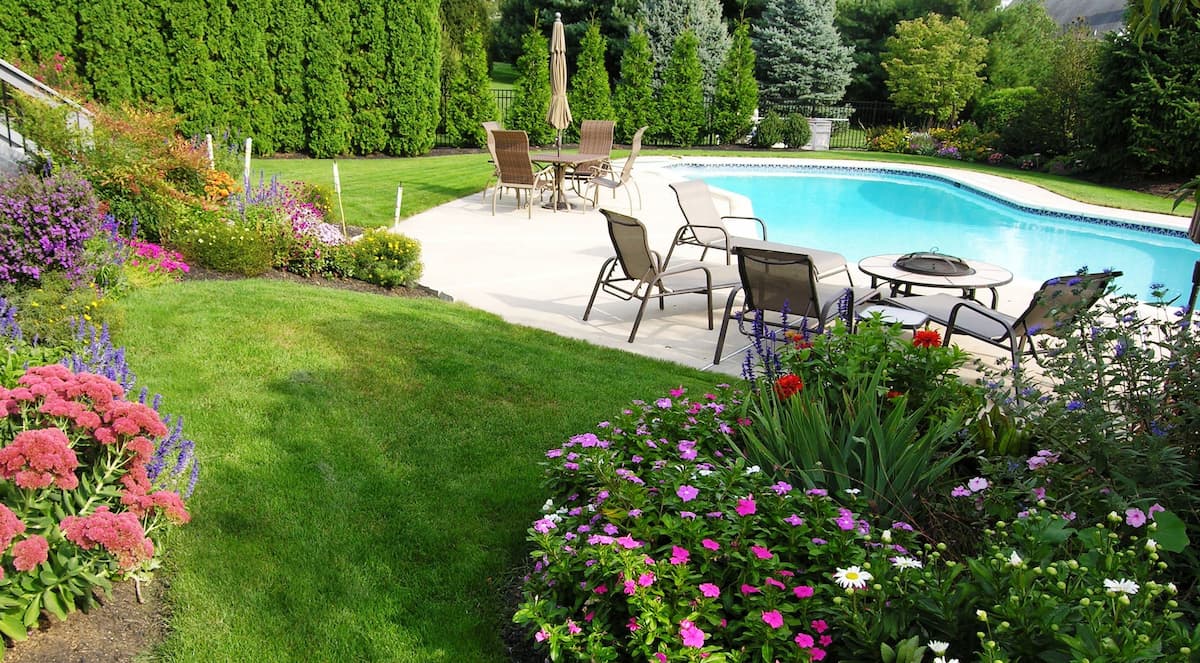 Diversity extends bloom through late summer, Lancaster, PA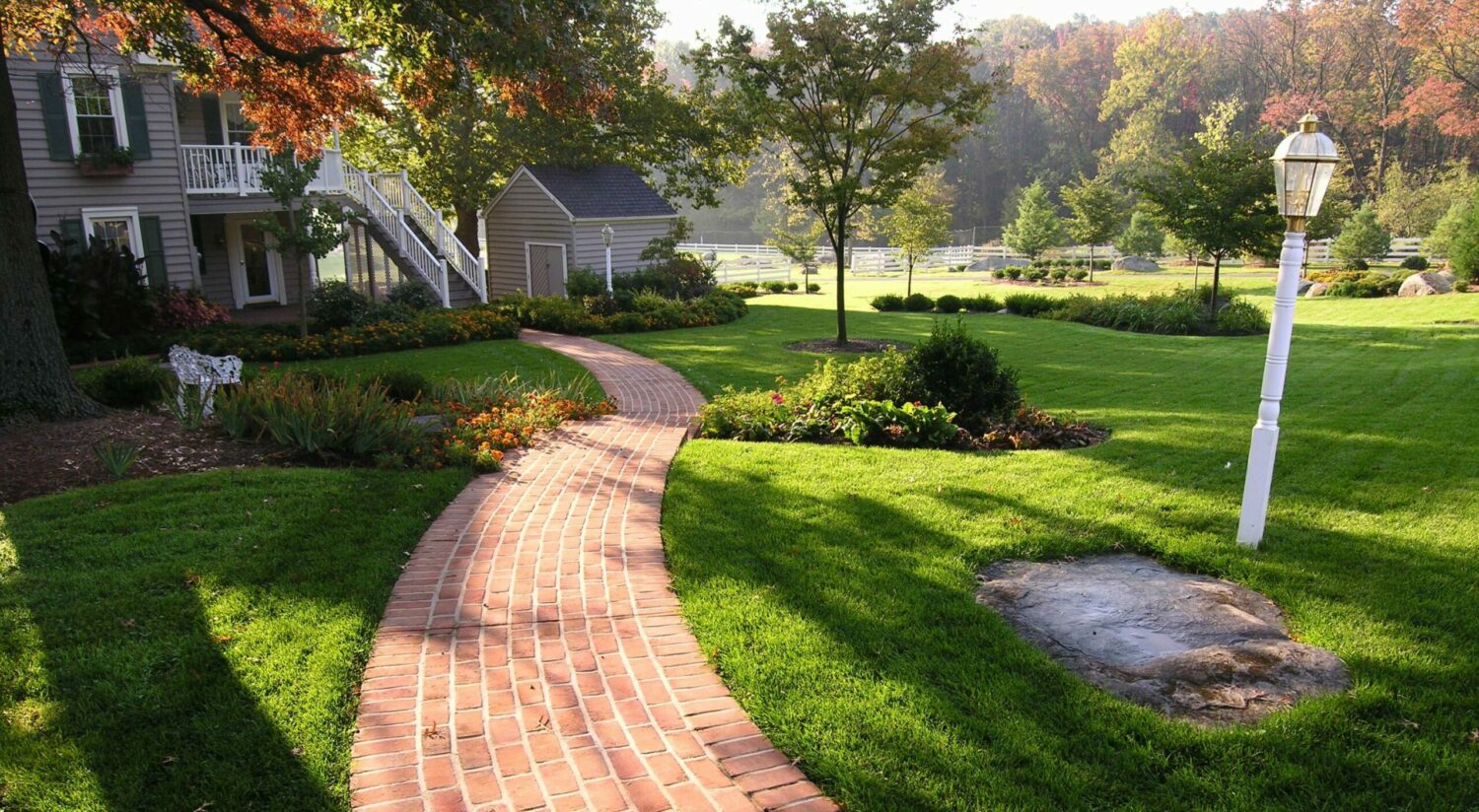 Restore a tranquil space surrounding a renovated farmhouse, Elizabethtown, PA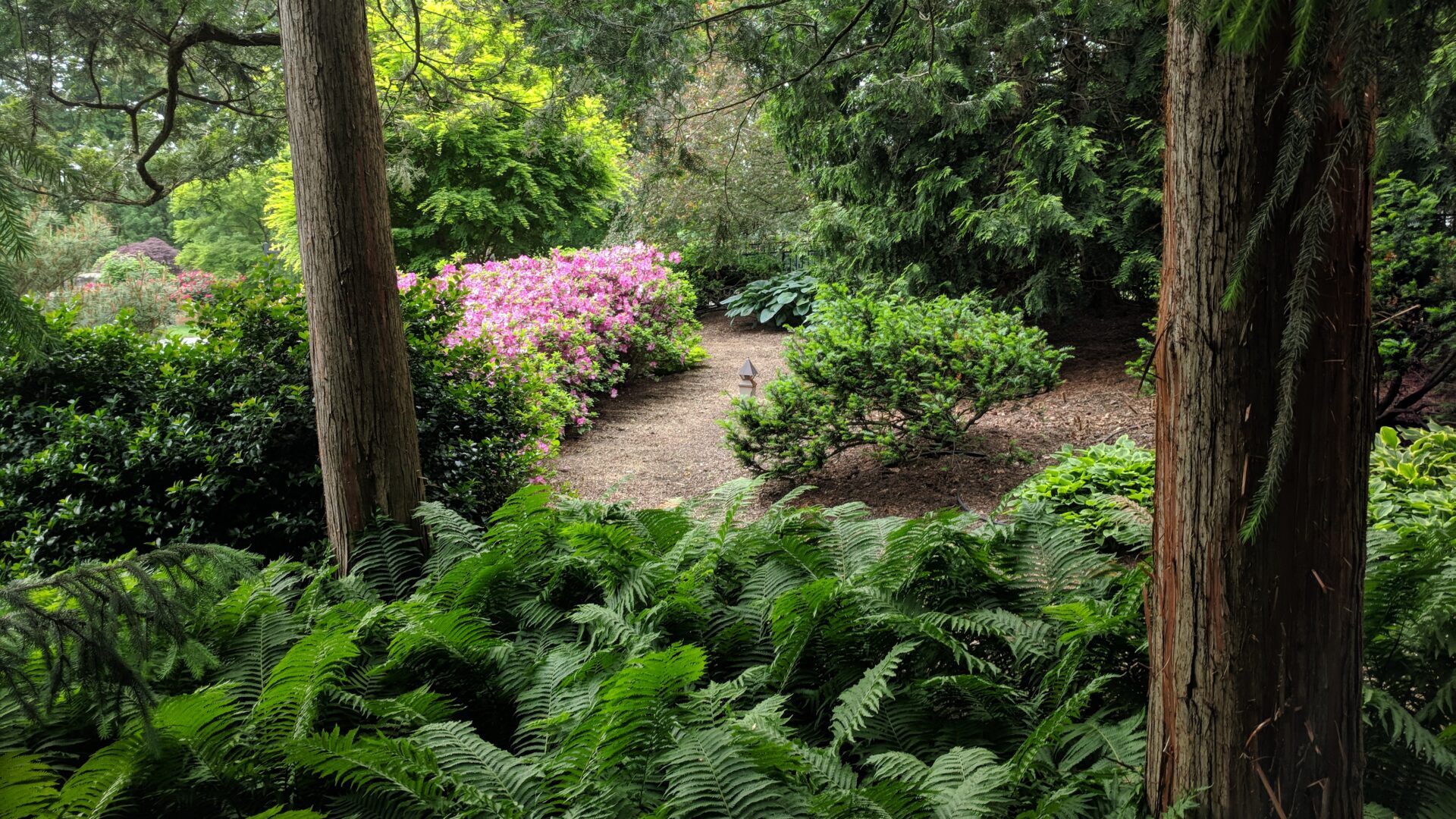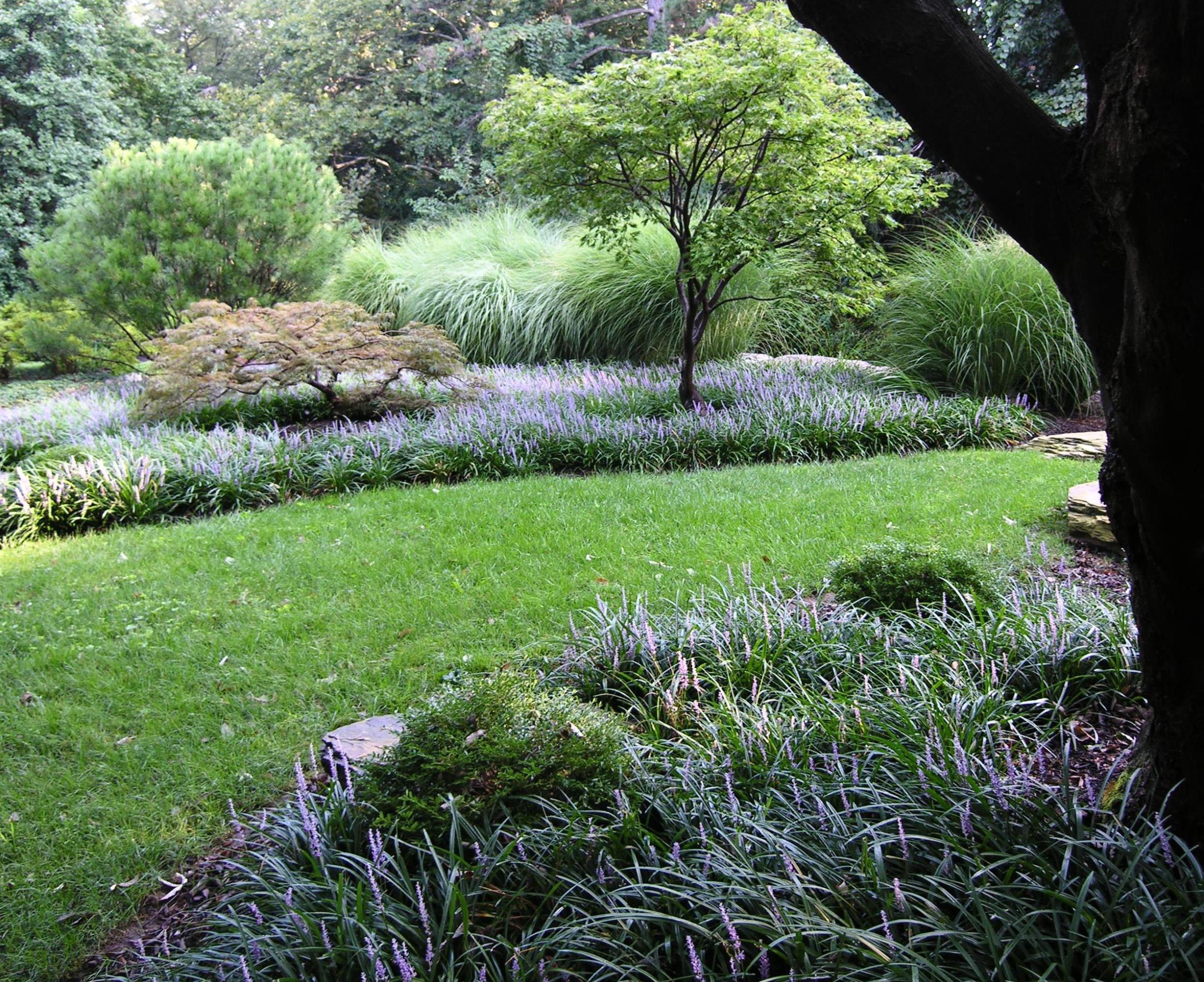 Fall-flowering groundcovers, Villanova, PA
Frequently Asked Questions
What types of landscape design services do you offer?
Hanselman Landscape & Gardens is a landscape design and garden installation expert, providing landscape & backyard design, Japanese garden design & hardscape services to PA and beyond. 
Our services include
Do you offer ongoing landscape maintenance services?
Yes. Our garden maintenance staff is trained and equipped to employ a wide range of mulching, soil-amending, and hand pruning techniques to ensure your garden's beauty remains stunning season to season. We also protect your garden with weed, pest and plant disease removal with minimal chemical pesticide applications. 
Where do you offer garden design and landscaping services?
We serve the the following regions 
South Central PA

Eastern PA
How involved will I be in the landscape design process?
You will be involved at every stage of the landscape design process from conception to completion:

Share the sources for your vision so we can dream together

Share your concerns and select the best solutions from our discussions

Share your goals, ideas, and project budget and we will begin to survey and plan your garden

Help us consider your primary view perspectives both inside and outside your home so we can imagine your garden through your eyes 

Select special trees and unique garden elements such as boulders at our nursery

Often our installation team will ask your preference as important items are placed so you can have your custom garden as you like it
How much do your landscape design services typically cost?
If we can work out a simple plan with our initial conversation, there is no charge.
Garden design costs depend on the complexity of the site to measure and the complexity of the proposed garden. Most of our plans cost between $1,500 and $7500. When you choose us to implement any phase of that project, we apply these payments as a 5% credit.
How long does a typical landscape design and installation process take?
Because your home and garden landscape are unique, the length of time needed to install a phase of your plan will be related to your needs. Small planting jobs can be accomplished in days, and projects with more parts involved could take a month or some, even a few months. We will discuss the time and cost before we start any work and make sure you are comfortable with the process.
Can you work with our existing landscape or garden, or do you require a complete overhaul?
You have complete control over that decision. When our designer meets with you, one of our first thoughts is how to use all the elements of your home's environment to improve your garden living experience. Sometimes, when what you own is a perfect fit, we can add to your "in-place" items. If what you have is desirable, perhaps in the wrong place, we will discuss if it can be moved. This way you can keep and develop all the parts you love about your home, while improving your view.
What kind of materials do you use in your landscape designs?
Since we are working to bring you into daily contact with the natural world, our first thoughts are to use natural materials such as: real stone, real plants. Selecting materials is a decision we make together so you have a clear sense of the options and their benefits. For a patio, sometimes alternate materials such as textured concrete are the most suitable for your needs. For garden planting, we consider the long-term maintenance and size suitability of all the trees and shrubs so that you are more pleased with your garden each year. Sustainability is one of our team's key objectives.
Do you incorporate sustainable or eco-friendly elements into your landscape designs?
For garden planting, we consider the long-term maintenance, climate and size suitability of all the trees and shrubs so that you are more pleased with your garden each year. Sustainability is one of our team's key objectives for your outdoor living environment. For example, our designs combine groups of plants which work as a community to naturally shade out weeds without chemicals and to reduce the need for added mulch as the plants grow. Developing healthy soil and managing water movement within the garden are also ways we improve the ecology of your landscape.
Do you offer any guarantees or warranties for your landscape design work?
Yes, we offer a full 1-year replacement warranty for all new plant installations. Please explore our 100% lifetime plant warranty which is included when you allow us to care for your plants with an ongoing 4 season pruning and pest control & disease control program.