PLANTING TREES AND SHRUBS
Trees and shrubs, as sculptural art in your garden, display structure, texture, color, and often fragrance on the stage of your garden. Hanselman takes great pains to ensure the health, beauty, and longevity of these living art forms, so you find joy in your garden.
Unique, high-quality plants–W
e offer a variety of plants that are not available in most retail nurseries in the Northeast and are selected for their structure, appearance, suitability, and longevity. At our nursery, we fertilize and carefully shape each plant as it grows. We also grow our plants in special boxes that foster healthy, unlimited root growth. These measures increase the health, beauty, and quality of the plants we bring to your garden.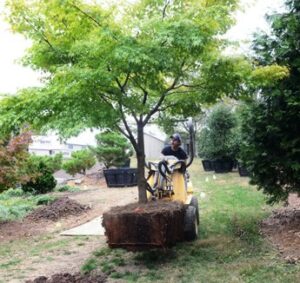 Proper planting techniques–Because we care about your garden investment, we take time to carefully develop and nurture the plants in our nursery so that when they take up residence in your garden, they are already strong, healthy, and vibrant. Because of the care they receive at our nursery, the trees and shrubs we plant in your garden will be healthy and beautiful, and will have well-developed roots before they arrive, so that when they transition to your garden, their success is guaranteed. We will also plant your valuable trees and shrubs using techniques that are suited to the species and the site. We will avoid common pitfalls, such as planting too deeply, so that your plants keep their health and vitality for many years. We can also transplant even large specimen trees from one site to another.
Lifetime plant guarantee–Extend your plant warranty for a lifetime when we care for your garden through our 4-season maintenance program. Because of the care we are able to provide for your plants before, during, and after they take up residency in your garden, we can guarantee your garden's success.
Contact Us if you would like to invest in some uniquely beautiful and enduring plant art forms for your garden!