SWIMMING POOL GARDENS
A Hanselman Landscape swimming pool garden must have the following qualities: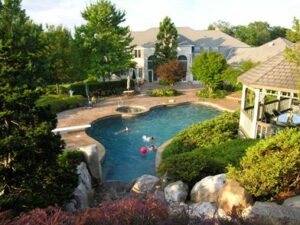 A sense of b
elonging to the space–We design our swimming pool gardens to fit beautifully and proportionately into the surroundings, as if the spaces occurred naturally.
An integration of all parts of the composition–This means the pool will not be a stand-alone item, but will flow naturally with the other plantings and structures in the environment.
A visual appeal in all seasons of the year–We design our swimming pool gardens to be attractive year 'round, even during the months when the pool itself is not in use.
Unique optional components–We build pools with massive boulders, jumping rocks, natural-looking water slides, and swim-in waterfalls.
If you are thinking of adding a swimming pool to your garden plan, Contact Us to find out how we can manage every aspect of the project and make your backyard oasis a dream come true!